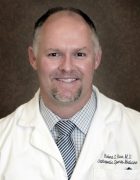 Specialty:
Orthopedics / Sports Med
Address:
Surgery Center at South Ogden
955 East Chambers Street, Ste 101
Ogden, UT. 84403
An expert at diagnosing and treating sports injuries, Dr. Robert S. Rice brings to Tanner Clinic a wide range of skills and training, including a five-year residency at the Mayo Clinic, which has ranked near the top of the U.S. News & World Report list of "Best Hospitals" for more than 20 years.
Dr. Rice earned his M.D. from Tulane University in New Orleans, then completed a Mayo Clinic residency in orthopedic surgery, where he was named the Trauma Resident of the Year in 2009. He continued his training with a fellowship in sports medicine at Taos Orthopedic Institute in Taos, N.M. He's earned board certification from the American Board of Orthopedic Surgery.
Dr. Rice treats a wide spectrum of orthopedic conditions, specializing in arthroscopic surgery and sports-related injuries to the knee and shoulder. In addition to treating his patients, Dr. Rice has been a member of the U.S. Ski and Snowboarding medical team since 2013.
A native of Northern Utah and a graduate of the University of Utah, Dr. Rice returned to Utah to join Tanner Clinic's staff because of proximity to family and his interests in such physical activities as fly fishing, skiing, hunting, golfing, camping and horseback riding.