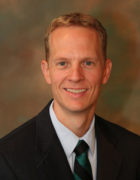 Specialty:
Otorhinolaryngology (ENT)
Address:
Surgery Center at South Ogden
955 East Chambers Street, Ste 101
Ogden, UT. 84403
Growing up in Layton, Dr. Ryan Meacham, an ear, nose and throat specialist at Tanner Clinic, always saw himself as a teacher or an educator of some kind. He was right. It's just his classrooms are the doctor's office and the operating room.
"I found I really enjoyed studying science, and I realized that much of a doctor's job is educating patients," Meacham said. "You've got to teach people about treatment options and how to live as healthy as possible."
Meacham earned his B.S. degree from Brigham Young University in physical education and his M.D. from The Ohio State University. He completed his residency at University of Tennessee Health Science Center in Memphis.
Dr. Meacham became an ENT specialist because he liked the idea of seeing something different every day. "You get a good mix of the clinical and surgery," he said. "And it's a great variety—you treat a lot of different things."
Meacham is the only Utah physician in private practice with fellowship training in Laryngology, which deals with disorders of the vocal apparatus. Meacham completed the fellowship at Oregon Health and Science University in Portland. The specialized training focuses on treating polyps and cysts of the vocal cords. He also worked with a variety of singers, helping them deal with voice issues.
Meacham completed a surgical outreach mission in Kenya, where he provided treatment for patients with iodine deficiency goiters. He also completed a UNICEF internship in the Philippines, where he designed a health care curriculum for elementary-age children.
Dr. Meacham is married and has three children, ages six, four and two. He enjoys hiking, biking, soccer and basketball.