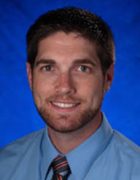 Address:
Surgery Center at South Ogden
955 east chambers street, ste 101
Ogden, UT. 84403
Dr. Frost grew up in Layton, Utah. He attended Weber State University and studied microbiology. Following undergraduate school, he earned his Doctor of Podiatric Medicine (DPM) degree at Des Moines University in Iowa. While in medical school, Dr. Frost was accepted as a dual degree student and earned a Master's degree in Health Care Administration (MHA). Dr. Frost completed a 3-year comprehensive surgical residency in reconstructive foot and ankle surgery at Texas A&M Health Science Center/Scott & White Memorial Hospital in Temple, Texas.
While in residency, Dr. Frost had the unique opportunity to train at McLane Children's Hospital where he received extensive training in pediatric foot and ankle pathology. During residency, Dr. Frost also participated in research projects, published manuscripts, and along with Dr. Campbell was recognized nationally for their research in foot and ankle trauma.
Dr. Frost specializes in surgical and non-surgical treatment of foot and ankle disorders. He is trained in complex reconstruction of the foot and ankle, arthroscopy, limb salvage, sports injuries, and pediatric foot deformities.
Dr. Frost enjoys spending time with his wife and four children. He also enjoys snow skiing, water skiing, wakeboarding, running, playing soccer, and watching college football.